If your landscaping company isn't big enough yet to hire a full-time designer, or if your current designers' workload is full, one option you can turn to is a design-only company.
An example of one of these design-only companies is Jacksonville, Florida-based Four Seasons Landscape Designs. While the company is located in Florida, owner/designer Guy Richardson creates outdoor living spaces for landscape contractors and home builders located throughout the United States and Canada.
Richardson began designing as a hobby in 1990 after spending 10 years in the Marine Corps.
"It must have been in the cards because my next door neighbor had a small lawn and landscaping business," Richardson says. "He was very accommodating to my questions and clearly had a lot of patience as I was always asking him why he was doing certain things in his landscape or how to use certain plant materials as well as information about the palm trees as it was new to me. "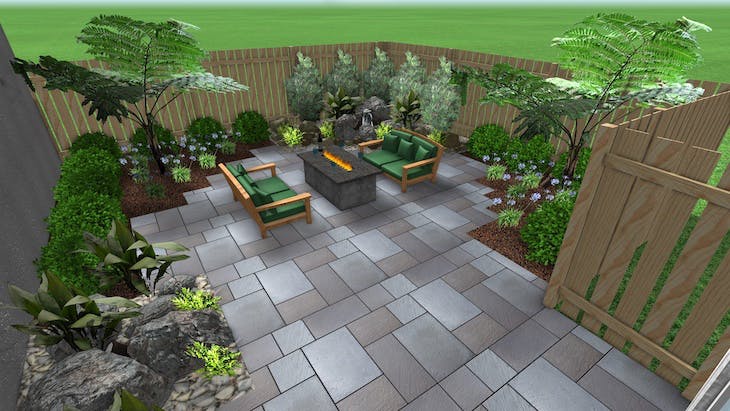 Photo: Four Seasons Landscape Designs
He started visiting various properties and studying their landscapes such as Leu Gardens, Disney World, Universal Studios and even the airport. In 2009, Richardson says he started designing as a side business after returning from a trip to Ecuador.
"I left Ecuador totally rejuvenated and inspired to do what I felt was something I was here to do," he says. "I thought life is too short to be stuck in a cubicle for 8-10 hours a day helping someone else succeed with little personal satisfaction. While I'm at a desk doing design work, I can do it from anywhere I have internet access.
Richardson chose to start his own design company because he says he wanted to create his own direction and future. He says he chose to stay on the design-only side because it gives him the freedom to work from anywhere and combines his skills in design and horticulture.
"I love the synergy that landscaping projects bring," he says. "Interacting with all stakeholders, from owners to installers to contractors, is simply invigorating for me. As I go my own way and totally removed from the action, I always feel like be part of the team to make a project a success.
Four Seasons Landscape Designs has a mix of recurring and one-time clients, who Richardson says often end up coming back when needed. He says landscape contractors often come to him to hire an in-house landscaper because of the cost.
"It's definitely a much cheaper avenue to take when they want to impress a client when they wouldn't have been able to successfully bid on a project, especially when other contractors are also using software to larger projects," he says. "What I'm doing is filling a niche where companies aren't really big enough for a full-time designer, as well as helping those companies with designers, but the project opportunities are piling up and they don't want not lose in competition.
Richardson says he gets his business through social media and word of mouth, but most of it comes from his contacts with landscaping companies through sites such as LinkedIn and Indeed. The reasons why a company may need an additional designer can vary from simply being sick or the company's project back builds.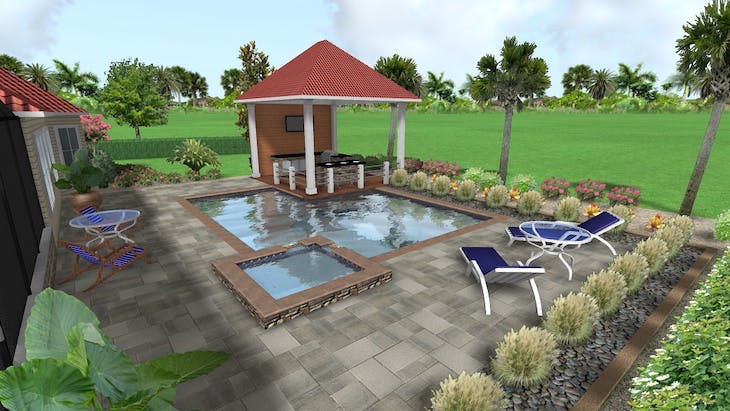 Photo: Four Seasons Landscape Designs
"There are times when there is a need for 3D work for a client presentation that has popped up and the current designer(s) are on other projects that are just as important in time so they are not available for get the job done," Richardson said. "In some cases, design shops lack the skills to create the desired 3D looks for a 3D presentation, whether in the form of screenshots or 3D videos."
For those concerned about Richardson's ability to create landscape drawings well suited to various parts of the country and Canada, he says he is often asked this question.
His answer is that he uses local nurseries as his main knowledge resource.
"I'll call a few local nurseries and introduce myself, saying I have a project in their area and would like to get an availability listing, which is never a problem," Richardson says. "In fact, they always tell me to call them if I have questions about plant material or quantities. If the entrepreneur has a favorite nursery, I will name it and another nursery as backup. By designing from a local nursery's palette of plants, you're sure to create a successful landscape that will thrive in that area.
Communication is a major key for Richardson to successfully create a design that appeals to both the landscape contractor he is working with and the homeowners. With today's technology, there are a multitude of ways to stay in touch with customers.
"Good communication is about making sure that you have meetings on time and that your technology is up and running well in advance of the meeting time so that there is no delay because contractor time is valuable and it's important to respect your time," he said. said. "If there should be a change in schedule, because things happen that are beyond our control, the contractor or his representative contacts me to reschedule and vice versa, because it is really a mutual respect for our businesses ."
During his first meeting with a landscape contractor, Richardson said they would agree on the communication tools they wanted to use for conferencing and messaging.
"Some have preferred methods of conferencing apps such as Skype, Google Talk, Zoom and Facebook," he says. "Almost all will use email and texting, whether that's SMS, Skype, Google chat or Facebook messaging."
Most of the time, Richardson only works with the landscape contractor or home builder, but sometimes he also works with the homeowner. He says he makes sure he knows the guidelines before talking to the consumer.
"I make sure I know all the boundaries because I'm basically representing the entrepreneur and I want it to look the best," he says. "It just means making sure what the contractor wants me to avoid or cover, because they have already been in contact with their client, so that they have first-hand knowledge of the project and their client's needs. ."
As for the time it takes to create landscaping for a landscape contractor, it will vary depending on the project.
The process usually includes an initial review meeting to make sure everyone is on the same page, then another meeting time is scheduled based on how long Richardson thinks it will take him to complete a job.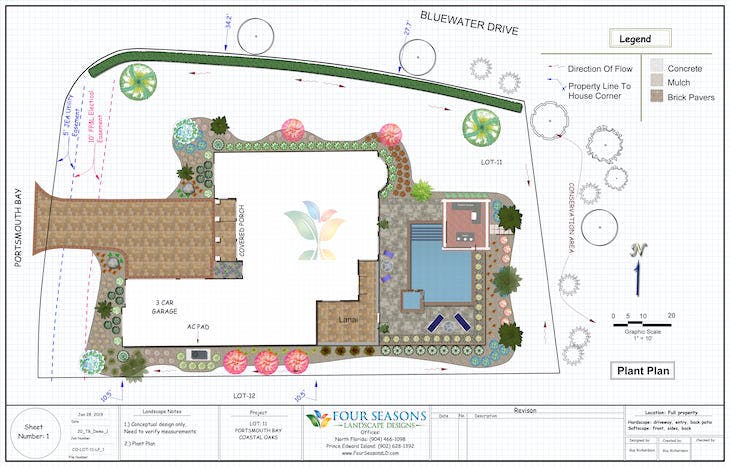 Photo: Four Seasons Landscape Designs
"Of course, at any time between scheduled meetings, I am free to send questions by e-mail, but when I do, I make sure that I have reviewed all the elements and send all questions in same time. It's about moving the project forward without multiple stop-and-go intervals, because time and precision are paramount. »
Once the design portion of the project is approved, Richardson says he's done, except for being available to make revisions or clarifications.
When it comes to pricing its services, Richardson has three tiers: standard, premium, and platinum, which set the base price for each category.
"When I discuss my pricing with the contractor, we see how the project fits into the pricing models," he says. "To be honest there's a mix and match to get what they need and depending on the complexity of the project we set the price because it's almost always between the two or three models depending on what which is made of each mock-up."
He says he always includes two revisions in the price as part of the project.
"If there's another review depending on how long it takes to do the review, I can just let it go at no cost," says Richardson. "If there were to be a change in scope, then there is a change order made to cover additions and changes as is the case when building a house or a landscaping project. Costs are there not only to pay for the extra work, which I'm glad to have, but can slow down a project. It also helps to avoid or slow down scope drift, because it's almost always the client who does it and ultimately pays for the changes.
Richardson says he developed his pricing model based on his costs, revenue and market value.
"What the market will support is perhaps the most important factor in determining my prices," he says. "If the market support price is less than the first two items of covering my expenses and a living wage, then it's no longer a business but more of a hobby."