There are two sides to every story and to follow up on our original article on the relationship landscapers have with landscape software, today we take a look at the positive side of design software.
While some landscape architects in the previous story considered the sketch to be superior, Patrick DuChene, owner of DuChene Design Solutions, strongly disagrees with this opinion.
"Landscape design software allows me to have the ability to run this remote landscaping business that I have, "he said. "I have clients all over the United States and without the use of software I couldn't do what I do without them. It speeds up my ability to serve my clients.
DuChene creates designs for landscape contractors who have just met homeowners who need a design. He says that over the past few years, as people have grown more impatient, the need for a quick turnaround time is far more important than being able to produce a hand-drawn project.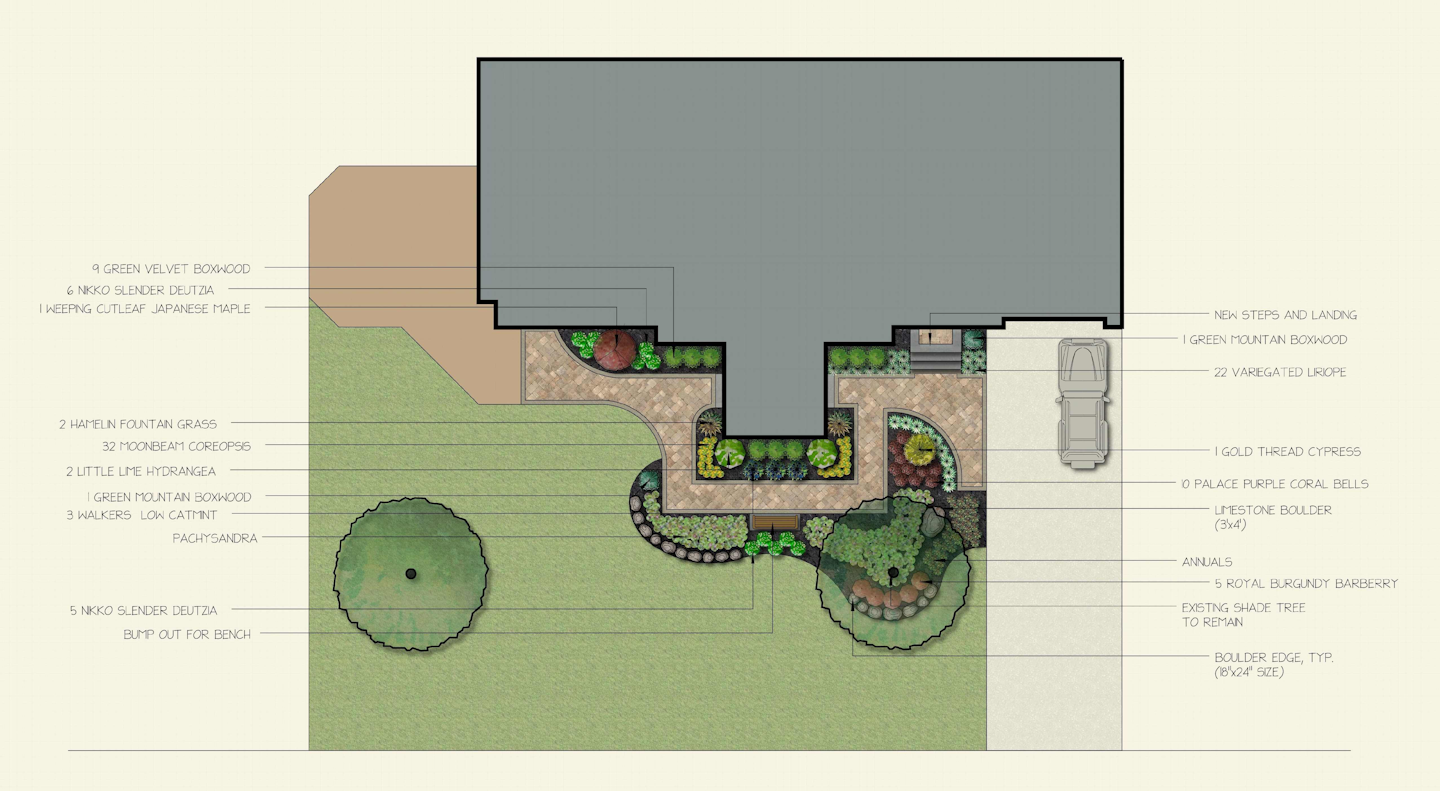 One of the reasons DuChene loves landscaping software is precision.
Photo: Patrick DuChène
"They don't care as long as it's accurate, professional looking and done in a timely manner," he says. "If I had to do it by hand, I wouldn't be able to do it as cost effectively. In addition, landscapers are also in the spotlight. They have a certain season when they can work and they try to do the most when they can.
According to DuChene, he can do three to five times more work with a computer than he can do the project by hand.
"I'm so much faster at rotating designs and so much more precise," he says. "You can sketch designs and come up with concepts to sell a job and that's great, but what about when a team has to go out there and build it? To make it precise, drawing by hand takes much longer.
Still, he doesn't dismiss the value of hand-drawing projects, saying it's a skill every landscape designer should know because you can't always rely on a handy computer to sketch out an idea.
"I'm going to do some sketches on it to get my juice flowing," said DuChene. "But, to be productive, it (hand drawing) has to be a medium rather than a driving message."
While there is a small niche of customer base that prefers to have a special hand-drawn project, that percentage won't be a landscaper's bread and butter, so unless your business only does a few designs a year, purchasing landscaping software is a very practical thing to do in DuChene's eyes.
For the old guard who refuses to adapt to this new design method, DuChene says they lack freedom, in more ways than one.
"If you have your own business, if you were going to draw things on a drawing board, good luck catching up with your work after the holidays," he says. "You can't skip a beat when you pick up your laptop. This allows you to go wherever you want. "
Most recently, DuChene explained that he was away on a trip with his family and was able to stay two extra days thanks to his five or six hour job there, which paid for the extra two days.
In addition to improving productivity, landscaping software also allows for more creativity through the ease of changing and modifying design elements and trying something new.
"It's amazing how much more I can explore a drawing when I can click Undo and move a part and then undo it," he says. "In an hour, can you imagine how many more design options you have if you have this tool to explore different options to solve the problem you are trying to solve? "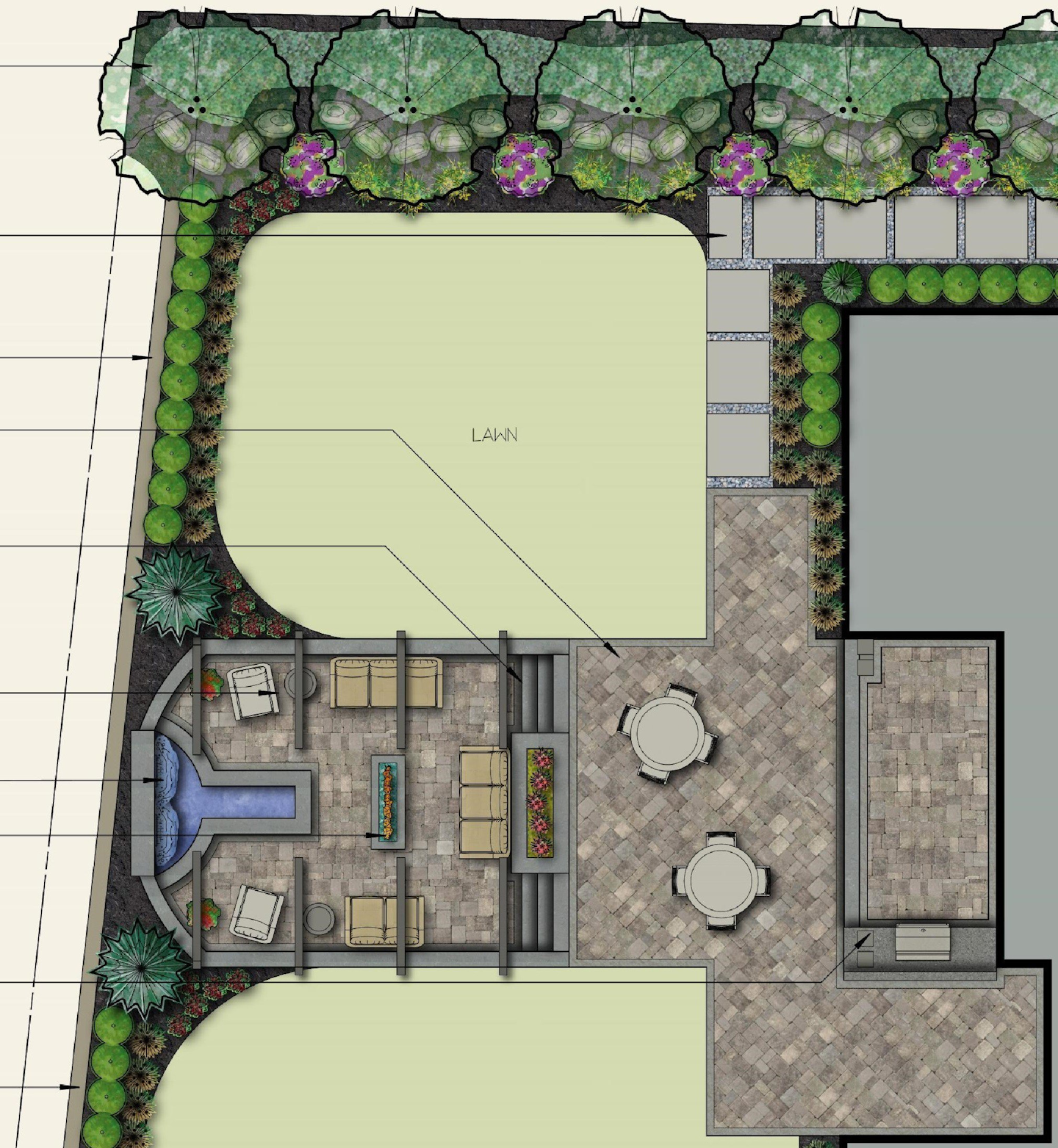 Details are not lost when working in landscaping software.
Photo: Patrick DuChène
DuChene says he's met many landscapers at trade shows who insist they can design faster by hand than on the computer, but when he asks them to try and beat him by drawing a set of 30 perfect steps on a staircase in a number of times they suddenly see its point.
"It's not I who am a sage," he said. "This precision that you get with the software improves a landscaping business and helps it create jobs correctly and also helps them estimate correctly. It's a very, very competitive industry and you don't want to overestimate or underestimate your jobs.
However, DuChene points out that there is a learning curve for software and often landscapers buy the software and struggle at first and choose to use what they know instead.
"I think if people give a little time and get over the frustration, it's very liberating and a lot of fun," he says. "It spoils you because you can undo and change things so easily. I'm so used to turning things around, cutting hours and trying something new.
As for what design software to get, DuChene personally uses DynaSCAPE, but he says each of the brands, including PRO Landscape and Vectorworks, all have their own place in the market.
He likes DynaSCAPE for having the most hand-rendered look, which is important to him, and it was the easiest for him to learn.
"Presentation is a major, major factor," says DuChene. "What you see initially has a huge impact on your intention to buy something. You need something that looks awesome and spectacular.
Another complaint raised against landscaping software in the previous article was the switch to more expensive subscription services. DuChene admits that when DynaSCAPE first switched to subscription-based software, he wasn't thrilled but quickly found that the free support and free updates were well worth the monthly fee.
"They're going to get you out of it no matter what, or you can just pay monthly," he says. "People aren't happy with the subscription, but when a business gets a much more stable cash flow, their ability to innovate is much better. "
When asked about the next generation of landscapers, DuChene expects them to embrace landscaping software much more enthusiastically than their predecessors, but still believes they will learn hand-drawing first.
"This is a fundamental element that we will teach them," he says. "I think creatives and designers will always like to draw. I don't think it will be a lost art.